If you are a tourist in Israel or in a short visit for a job you must try our private Krav Maga Training !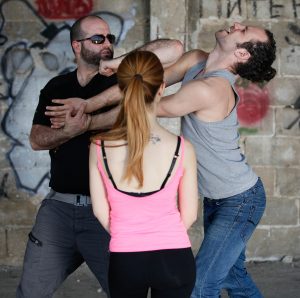 Private Krav Maga Training is the hottest attraction in the tourism industry in Israel and we are here to give you the best Private Krav Maga Training.
Our availability for you is 364 days a year and we can have the private krav maga lesson in any location in Israel (indoor – our studio in Bat Hefer or Out door at any place required.
The lesson is personal or in couple and instructed by one of our best Elite Krav Maga instructors so we can do it in any location in Israel.
Our instructors team
The Elite Krav Maga instructors are the most professional krav maga instructors.
All our instructors are certified by the Israeli Ministry of Culture and Sport. Most of our instructors were Krav maga and fitness instructors in the IDF (the israeli defense forces)
In case of a special needs such as female instructor (for religious girls and women) we hae the BEST female krav maga instructors.
Warm words and testimonials from our training
Tom (USA) : "We were able to train today, with Master Matan Bochner. Matan was a direct student on the founders of the Krav Maga, and he is a former fighting captain in the IDF. He was very gracious and provided a great class; along with a wealth of knowledge."
Ed (Brazil): " I had the best Kravmaga lesson in my life. it was by far more stunning then i tought i will be. Muito Obrigao "
Johan (Germany) : "My wife and I had a private kravmaga lesson with Master Bochner and it was absolutely fabulous. We will see you in our next vaction in Israel for sure !"
Pamela (Italy): "The lesson I did was amazing. Matan was attentive, sensitive and considerate. Now I have confidence to go out for a walk at night".
Vanessa (Portugal) : "I have to say thank you to Google for finding you. I've had an amazing experience with you that I will never forget. You gave me confidence. Thanks"
Call us today and book your  Private Krav Maga Training now! +972-543194941